At the very beginning, there was...
579

Views
1
Liked
Posted on:
01/03/2022
To scale
In the beginning, there was...
By Éric Descarries
According to Guillaume Lauzière-Sévigny, an employee at JacHobby, miniature cars to be assembled account for 50% of all the models sold there! And most, if not all, buyers know very well what they are looking for. However, the average age of these enthusiasts tells us that there is a good chance they don't know the history of this facet of the hobby.
Of all my collectibles, three-quarters are cars and trucks. I received my first "kit" at Christmas 1960. It was a 1960 Ford Thunderbird from Palmer Plastics. I was 10 years old at the time (which gives you an idea of my age)! I can't tell you if it survived. But I can tell you that my second model, a 1957 Ford Ranchero "customized" by Revell, still exists! It is in one of my displays! At that time, miniature cars were starting to be popular.
My second lifetime model, a 1957 Ford Ranchero from Revell! I still have it! I already painted it (with a brush) about 50 years ago. I also changed the wheels at that time! (Photo Éric Descarries)
In fact, 1959 could be identified as the first real year of production of 1/25th scale precision miniatures. They were almost all AMT products, American cars of the year (mostly from Ford and GM) offered in coupe or two-door convertible. The JoHan company reproduced cars from Chrysler, Oldsmobile, Cadillac, American Motors and even Studebaker. SMP came next to complete the line. At that time, these companies made these miniatures first for the car manufacturers (who gave them to their customers) before adapting them for the hobby.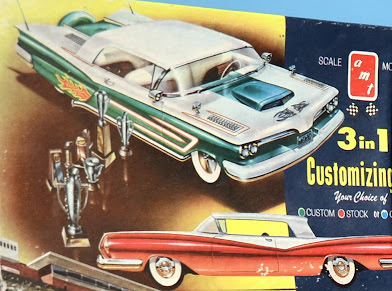 In 1959, AMT produced 1/25th replicas with a one-piece body. The boxes were generic. Only a print on the side identified the replica in the box. (Photo via Internet)
However, there were smaller scale model cars during the 1950s. The most famous were antique cars and sports cars possibly in 1/32 scale produced by a company known as Gowland & Gowland. It was later taken over by Revell and then by Minicraft. At the same time, Monogram (which was already marketing boats and airplanes) put on the market its first car, a "Midget Racer" (which has been taken over many times since then) and which sold for...$0.50! And at that time, the Canadian dollar was worth more than the American dollar! There was also a series of Revell (and even Revell-AMT) cars of American 1/35th (the scale was not indicated on the box so I took the measurements of the 1955 Chrysler version and compared them with the full size car to come to this conclusion). Today, the 1/35th scale is reserved for military vehicles all over the world.
The Gowland & Gowland miniatures appeared in the mid-fifties. They were taken over by Revell and then by Minicraft. (Photo via Internet)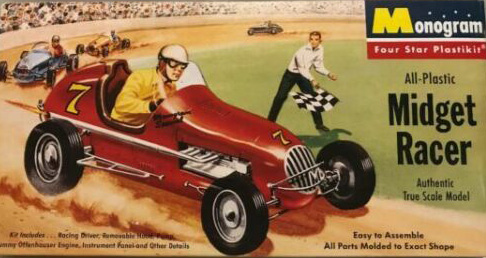 Monogram got into the miniature car business with this racing "midget" during the 1950s as well. The model sold then...$0.50. (Photo Éric Descarries)
AMT models quickly took the market by their one-piece molded body (almost all other models had bodies that had to be assembled!). This Michigan company (whose original name was Aluminum Model Toy) offered us (American) cars that could be built in original versions, in racing versions (NASCAR was still in its infancy and AMT models were the ones you could see on the track) or in so-called "custom" versions with rear wheel skirts, custom hubcaps, added spoilers, side exhausts and decals, lots of decals. I was 12 or 13 years old at the time and most of my friends were collecting "sticker tanks". However, few of them painted them! But they added decals to them! It must be said that at that time, spray paints were rare and very expensive. And hobby shops were rare. Even worse, they didn't keep "models to stick" in stock. Instead, they sold accessories for painting on wood or canvas, for carving, for DIY and so on...
So, where could you find the "glue models"? In some toy stores, but mostly in the big department stores like Miracle Mart, Woolworth's, Zeller's and others (all names that have disappeared today, the Wal-Mart and Costco of the time). One had to be careful when buying because often the boxes (which were not sealed with cellophane) had been opened by smart guys who stole the chrome parts and decals especially. How much was a 1/25th scale model worth? About $1.50! The 1/32nd scale cars were selling for $0.50! I remember that I used to drive along the secondary roads of the small towns of Laval (which were called Duvernay, Pont-Viau, Saint-Vincent-de-Paul, Chomedey, Vimont, Laval-Ouest and others before the merger of 1965) to collect empty bottles in the ditches and sell them to make money...and buy models. I even did lawns with my father's mower for a few cents!
Were those the days? AMT and other companies stopped selling so-called "annual" models in the late sixties to offer us other things (dealerships were no longer giving away miniatures as reproduction rights were getting expensive!) More on that later!
(Does this blog bring back memories? Don't hesitate to share them with us!)
Comments
Belle initiative

By: Pierre Lagacé

On

02/07/2022

Merci de partager vos souvenirs de ce hobby si passionnant.

Les autos a coller

By: Pierre Lavigne

On

13/03/2022

Je suis né en 63. J'ai commencé a faire des modèles a coller dans les années 70. Mes deux premiers (un cadeau de Noël) Chevrolet Belair 1955 et 1957. J'en ai fait beaucoup ensuite, peinturés au pinceau, puis j'ai abandonné avec le travail la famille etc, pas de temps. Là, a la fin de mes années de travail, bientôt la retraite, je m'y remet. Mais plus questions de pinceau, je commence avec les cannes de peintures et peut être autre chose après. Disons que je dois apprendre plein de trucs.

Replied by: Eric Descarries On 17/03/2022 Salut Pierre, re-bienvenue dans le club! Il y a certainement plein de trucs à apprendre et c'est ce qui rend le hobby si intéressant. Si tu cherches un peu dans notre site, tu trouveras des conseils (en vidéo) de notre ami Guillaume. D'autre part, une petite visite au magasin pourrait te mettre en contact avec nos «experts» et probablement plusieurs autres personnes capables de t'aider. Sinon, ne te gênes pas de nous envoyer des courriels avec des demandes spécifiques. Nous sommes là pour cela et il nous fera plaisir de te guider dans la production de beaux modèles!

Éric D.