Could this be the golden age of model making?
1414

Views
1
Liked
Posted on:
30/05/2022
Before starting the subject of this blog, let me mention (once again), the death of our friend Daniel Lynch. Daniel was a passionate modeler, especially of miniature cars, and for many years he participated in a number of events in the field. Moreover, his work was often published in various media. We owe him, among other things, the website "Les maquettes du Québec" and many other contributions to our hobby. He was a person who was not shy to give good advice. We can only pass on our condolences to his family and his many friends. He will be missed at our meetings for sure!
Daniel Lynch 1958-2022 (Photo via Internet)
One of Daniel's works that appeared in Contest Cars 2014...(Photo courtesy of Contest Cars)
So, are we living in the golden age of model making? I am over 70 years old and I remember very well the models that were on the market in the early sixties. The most beautiful ones were cars from AMT or planes from Revell or Monogram. Today, these same models are sought after as collector's items but not necessarily as favorites to be built.
Indeed, these cars or airplanes that we admired at that time are treated today as real "dinosaurs" offering very few details. The cars had no hood that opened (therefore no engine) and the planes (or even boats) were just simple silhouettes with no interior except, in some cases, a pilot's figure. As for the precision of the assembly of the parts, in some cases, it required some adjustment work. Does anyone else remember the Palmer Plastics cars?
We had to wait decades to see improvements and, let's face it, we have to thank Tamiya products and other Asian world models for the arrival of detailed models. Today, they are detailed as you wish. Of course, their price is much higher even with all proportions kept. In the end, modelers nowadays are not satisfied with vulgar reproductions but want very precise models. If small cars or planes or boats used to sell for $2.50, nowadays there is not much under $40. Even the smallest 1/32nd scale cars that used to sell for 50 cents are now over $20! Just recently, I saw warships at JacHobby for over $750. These are no longer toys!
There are vintage models for sale at the shows...but not necessarily speculation.
 (Photo Éric Descarries)
But no one seems to be complaining! Even worse, when a new model appears (especially in the car industry), some collectors will not hesitate to buy three or four of the same model! For speculation? Not necessarily...
While surfing the Internet, I often see collectors selling some of their brand new pieces in their still sealed box at prices that are very reasonable, sometimes even under the current price in the store. This was my surprise at the recent collector's show in Laval (incidentally and curiously, I did not see an announcement that it was for the benefit of the Scouts, as in the past). Many "buyers" left with real little treasures bought at affordable prices.
What is very interesting to see in our exhibits is some incredibly interesting work!
(Photo Éric Descarries)
Many of these models were copies that are no longer available in stores (I think most modelers prefer to buy a brand new "kit" at their favorite store...). On the other hand, he also had dealers who offered models already assembled or even partially broken that many enthusiasts like to find to rebuild them!
Because, here is another facet of our hobby that is gaining speed. Many modelers, more skilled or more handy than others, like to "restore" an old model that is still salvageable. In addition to the replacement parts they will find at such shows, they can rely on their favorite store for repair materials, paint, instruction books, special camouflage products for military vehicles or weathering or damage. We didn't have that "back in the day".
The man who was exhibiting miniature trucks at last weekend's show was offering some of his creations for over $3,000. Speculation? Well, no...his work included hand-crafted aluminum parts. In his case, it's art!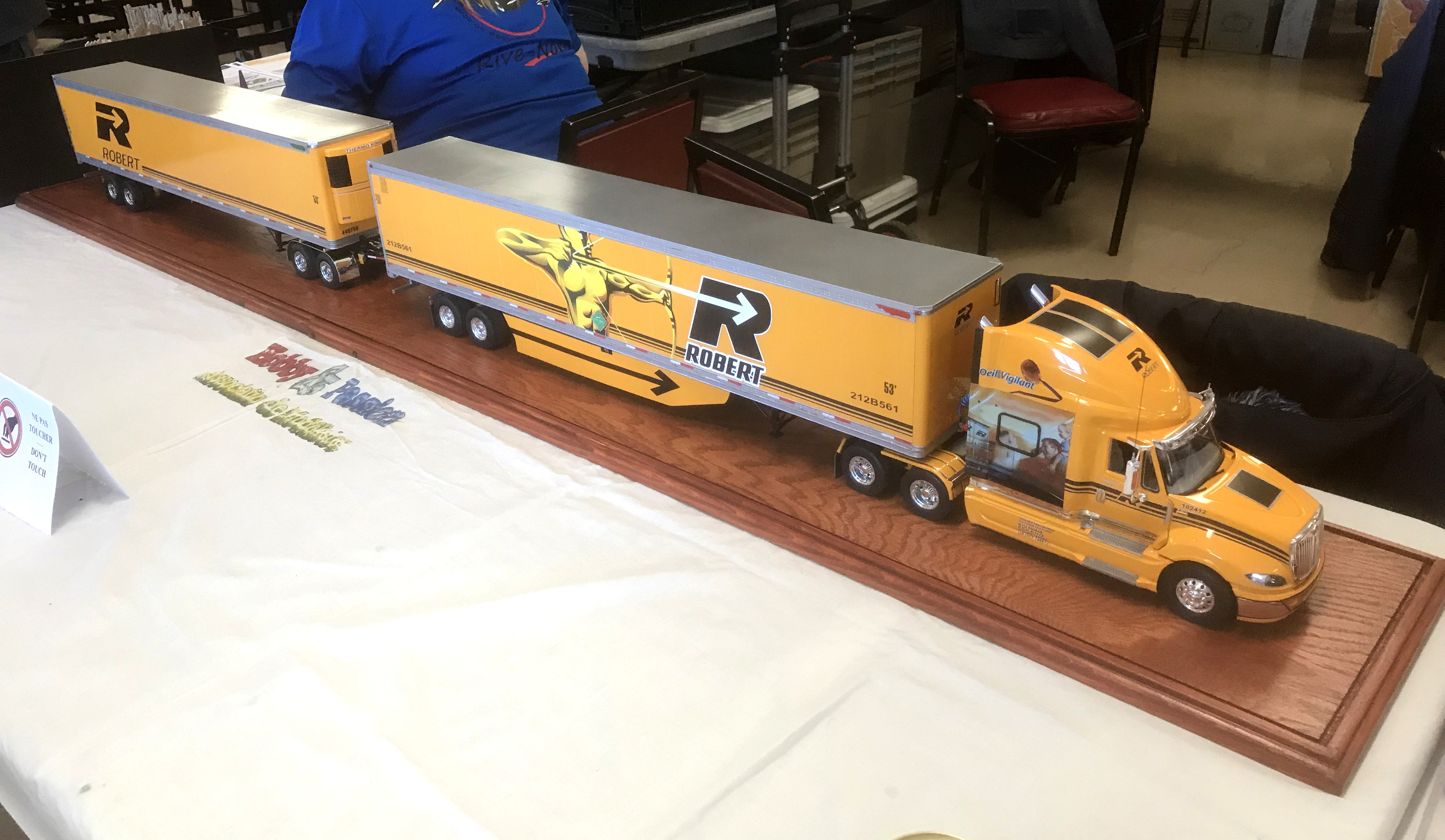 (Photo Éric Descarries)
But, the question arises...Is there any exaggeration or speculation in the field of model making? That, I am not sure. There are some "kits" on the resale market that are intended to be rare, even very rare. When they are offered for sale, the price may seem high. But in the end, I often learn that they went for a good price after negotiation. Some "new owners" will try to keep them disassembled in their box but more than one will try to assemble them.
And that, I believe, is the proof that the majority of modelers in our environment are not profiteers...they are real modelers! And we are proud to be part of it! We are definitely living in the golden age of model making.
Comments
Exposition de collectionneurs à Laval

By: Pierre Lagacé

On

17/11/2022

Est-ce possible de publiciser ces expositions sur la page Facebook de JacHobby lorsqu'elles aurions lieu dans l'avenir.

Merci

Pierre Lagacé

Replied by: Jacques Legault On 18/11/2022 Bonjour Pierre,

Pour le moment nous n'avons pas les ressources pour suivre et ajouter cette information.
Bien que le contenu des blogs puisse en faire mention, nous publierons seulement les activités à but non lucratif.
Merci d'avoir laissé un commentaire.
Bonne journée,

Jacques